Lingvanex Lifetime Deal : Enjoy Instant Translation Without Restrictions. Translate: text, voice, text on pictures, files, websites in 108 languages.The most complete Translation Suite for 100+ languages
Lingvanex Lifetime Deal
Lingvanex Lifetime Deal . Are you in search of a powerful language translator? Want it to have an in-built camera translator, text translator, voice translator & OCR image translator, and to be available as an offline translator?
Translate Text, Your Voice, Images, Websites, And Documents On Any Device.
Lingvanex translator apps for macOS, Windows, iOS, and Android are the modern translation software for 100+ languages. It's an all-in-one instrument for your tasks! You can translate text, voice, images, web pages, and documents. Use one subscription for all platforms.
Lingvanex Lifetime Deal Demo Video
Inside of Lingvanex Lifetime Deal:
Translator for Windows, macOS, iOS, Android– Text translation into 100+ languages.
Translate text on images.
Speak and translate your voice.
Listen to the translated text.
Translate documents (.docx, .rtf, .txt, .pdf* and etc)
Website translation.
History for all apps with your account.
Save your favorite translations as bookmarks.
Dictionary with many alternative translations and meanings of a word.
Share your translated text with friends or other applications.
Additionally iOS, and Android– Use phrasebooks to learn the most popular phrases in many languages.
The special keyboard will help you to translate text when you type.
Learn new words with memory cards.
Additionally for iOS
Get translations in iMessage, Spotlight, or Widget.
Some uses of online & offline language translators:
Text, voice & camera translator for all the languages you need with different features.
Quickly translate text or voice messages. Use it for both prerecorded audios, IM or SMS messages, or write/speak to the app.
Voice-to-Voice conversations in 100+ languages with translation into your native language. Record a call and use it as a phone call translator too.
Unlike most language converters, Lingvanex offline mode allows you to use it abroad for offline translation without using expensive roaming.
Translate Text, Voice, Images, Photos from the camera, Screenshots, Sms, Conversations, Files, Websites, and PDF documents making it perfect for both personal and professional use.
Main Features Of Lingvanex Lifetime Deal

Language Assistant for all platforms and any situations.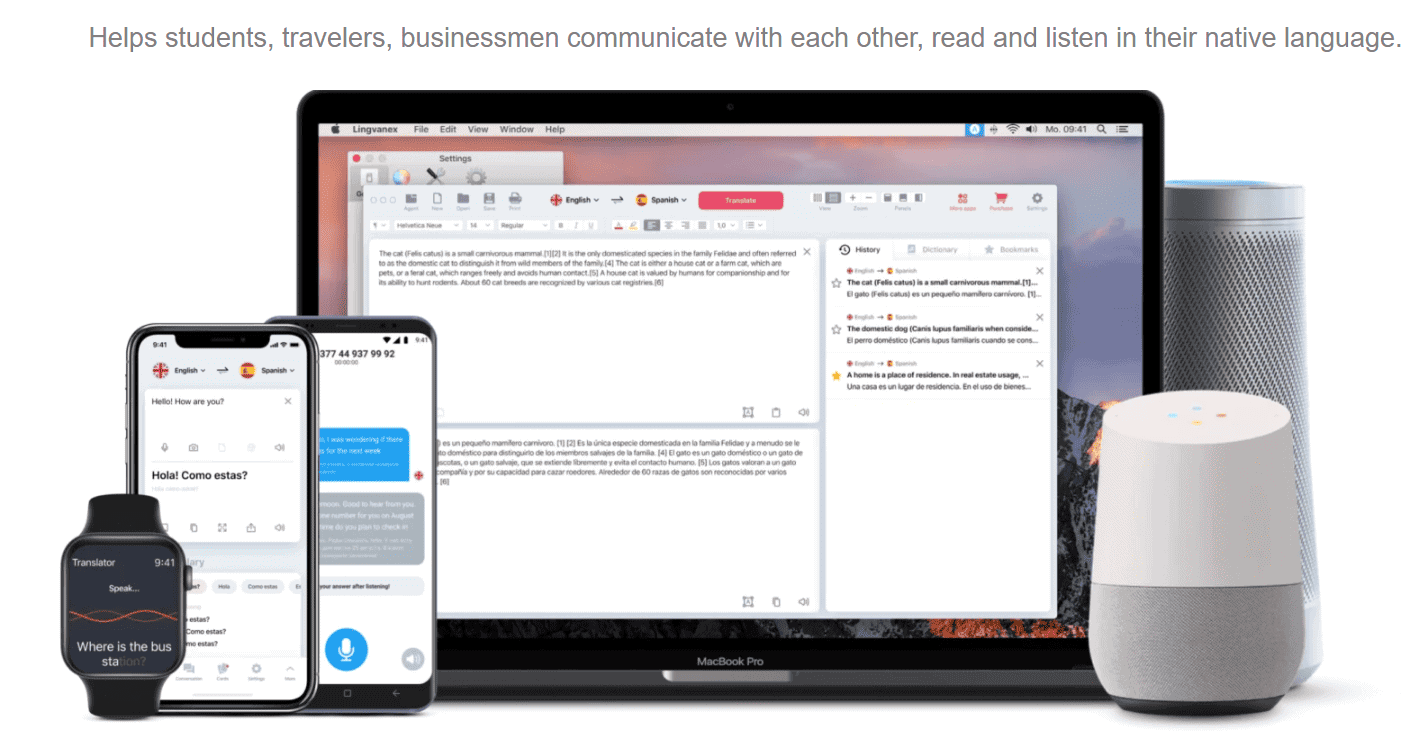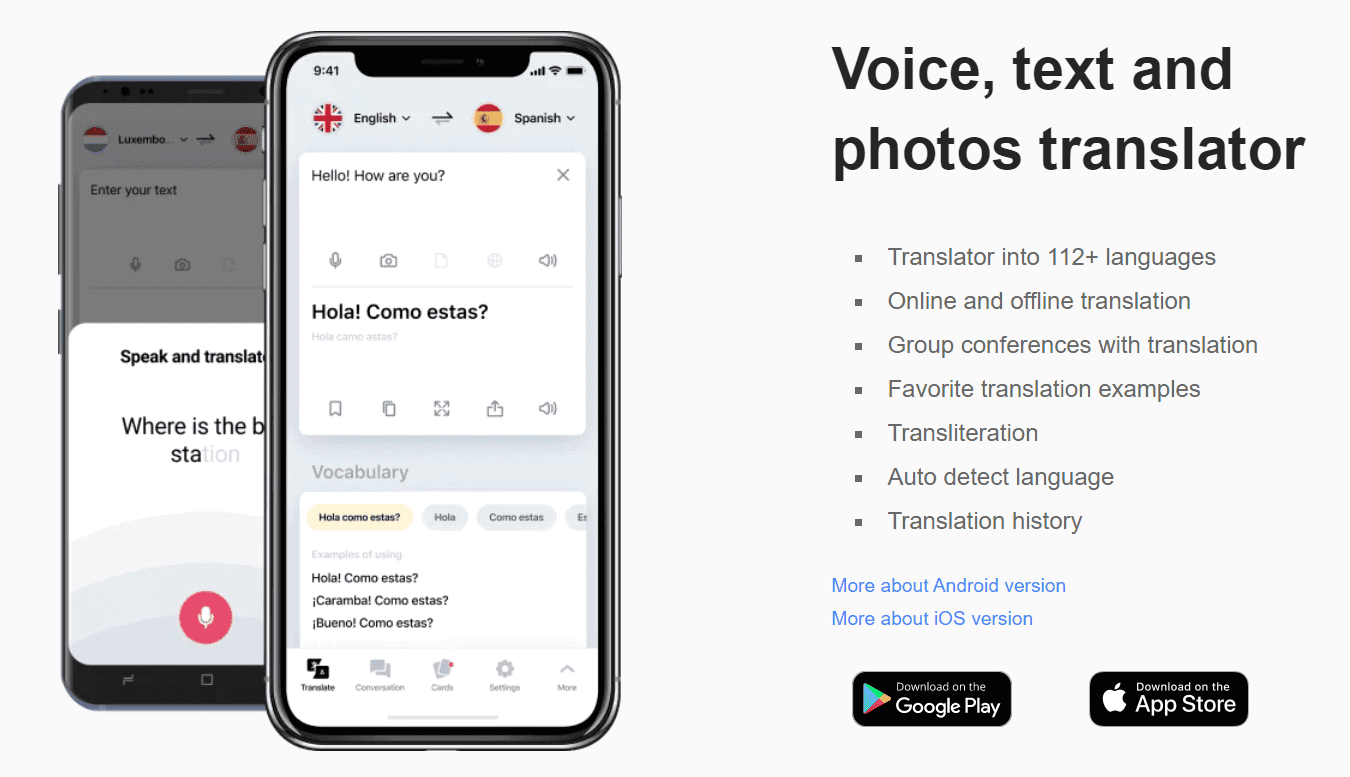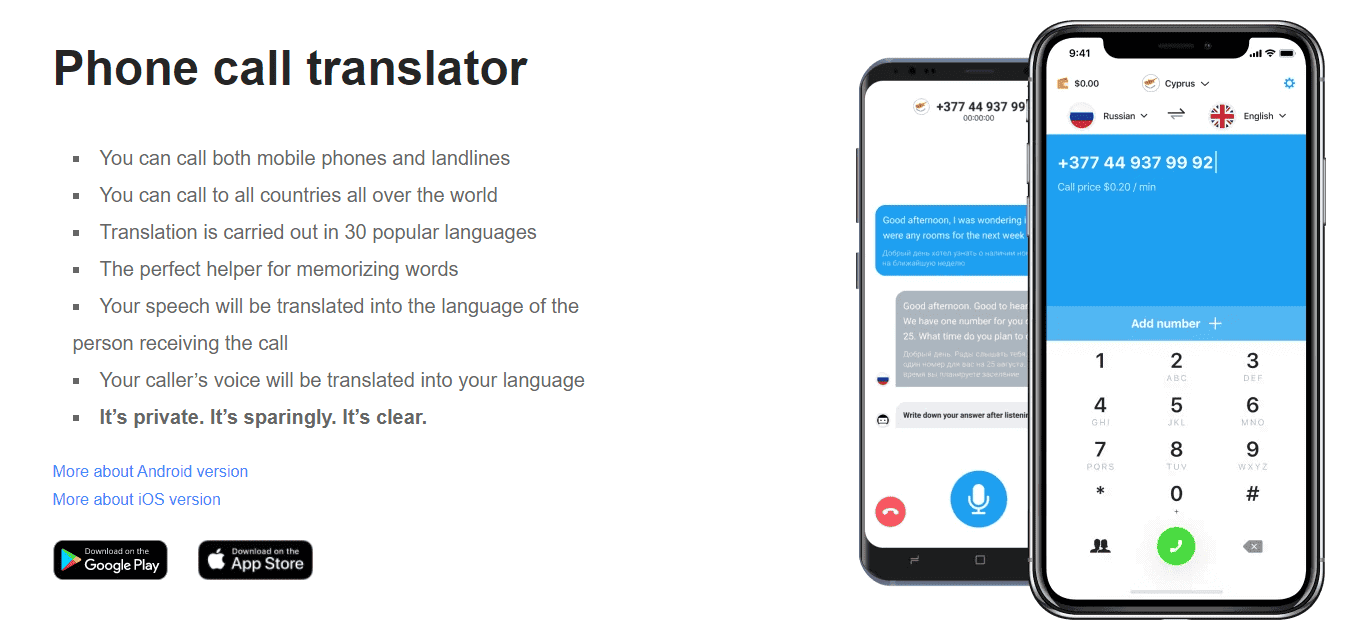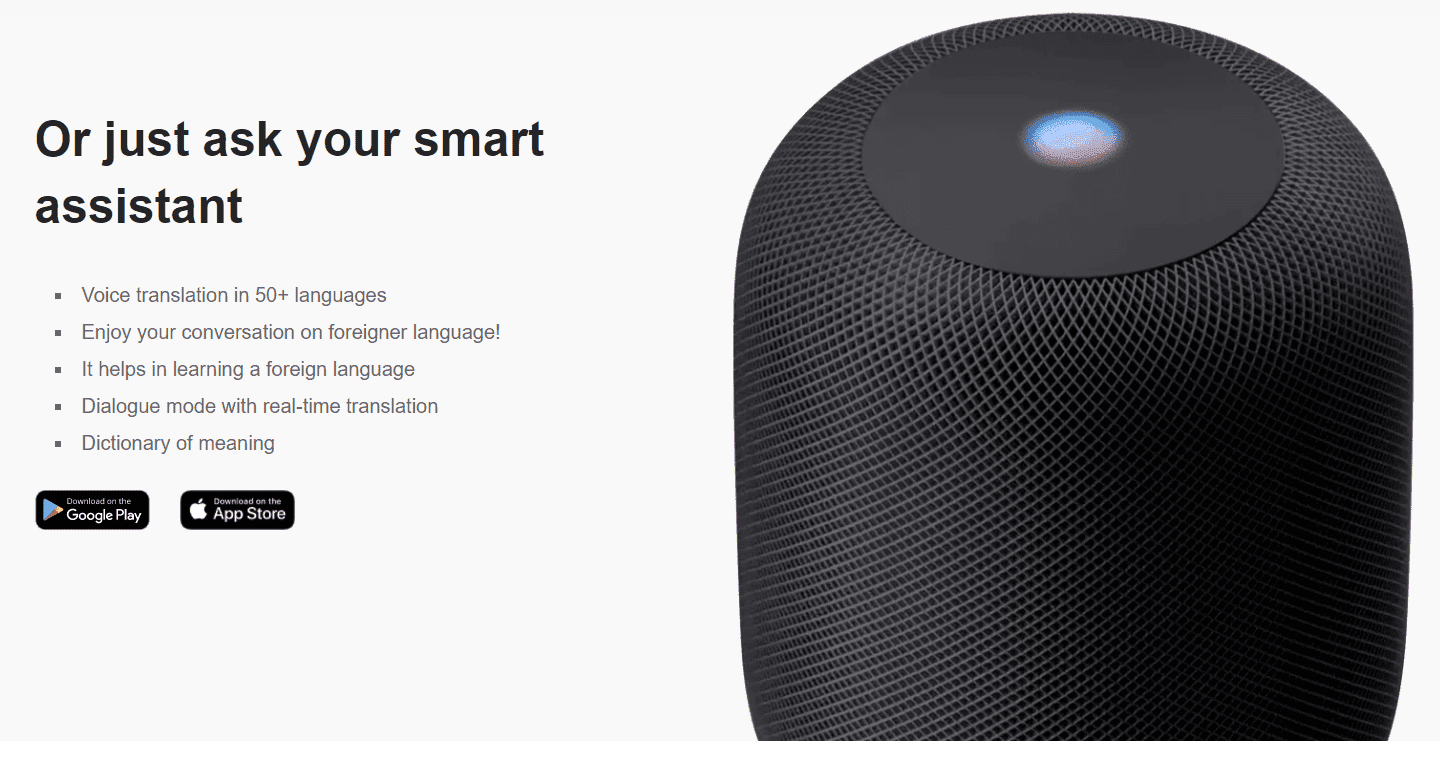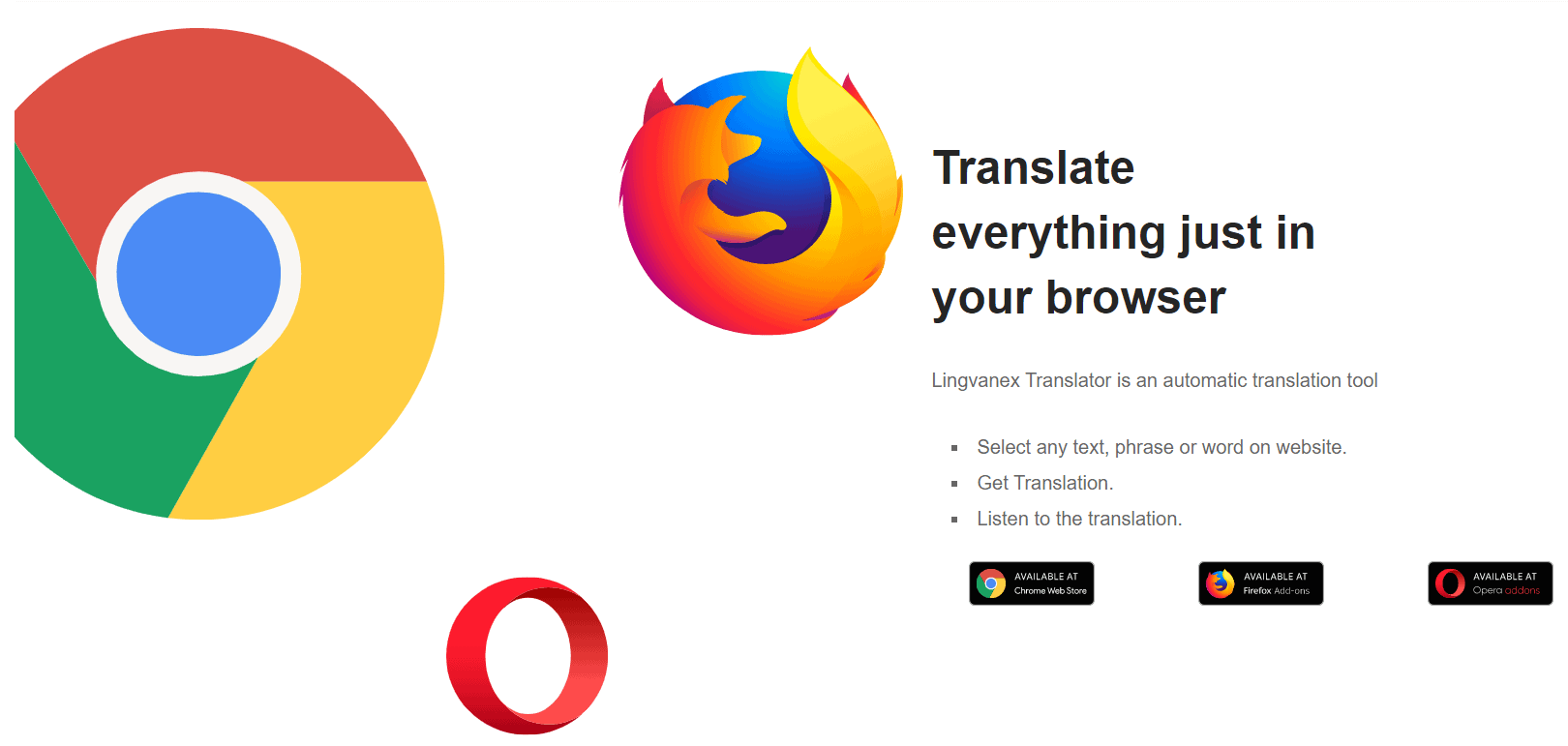 All Supported Languages:
Afrikaans, Albanian, Amharic, Arabic, Armenian, Azerbaijani, Basque, Bashkir, Belorussian, Bengali, Bosnian, Bulgarian, Burmese, Cantonese, Catalan, Cebuano, Chichewa (Nyanja), Chinese, Corsican, Croatian, Czech, Danish, Dutch, English, Esperanto, Estonian, Fijian, Filipino, Finnish, French, Frisian, Galician, Georgian, German, Greek, Gujarati, Haitian Creole, Hebrew, Hindi, Hungarian, Hausa, Hawaiian, Icelandic, Igbo, Indonesian, Irish, Italian, Japanese, Javanese, Kannada, Kazakh, Khmer, Klingon, Kiswahili, Korean, Kurdish (Kurmanji), Kyrgyz, Lao, Latin, Latvian, Lithuanian, Luxembourgish, Malay, Malayalam, Maltese, Maori, Marathi, Mari, Macedonian, Malagasy, Mongolian, Myanmar (Burmese), Nepali, Norwegian, Papiamento, Pashto, Persian, Polish, Portuguese, Punjabi, Romanian, Russian, Samoan, Scottish, Serbian, Sindhi, Sinhala, Slovak, Slovenian, Somali, Spanish, Sundanese, Swedish, Tahitian, Tajik, Tagalog, Tatar, Telugu, Thai, , Turksh, Udmurt, Ukrainian, Urdu, Uzbek, Vietnamese, Welsh + many more!
Permission Notice:
Microphone for speech translation.
Camera for translating text on images and phones.
An internet connection is required to use the app. To use the offline mode, you need to download language packs.
System Requirements:
Windows OS: Windows 10 or higher Memory: 2GB 300 MB free disk space.
macOS OS: MacOS 10.12 or higher Memory: 2GB 300 MB free disk space.
iOS OS: iOS 11.0 or higher.
Android OS: Android 5.0 or higher.
Deal Terms:
Length of access: Lifetime.
Redemption deadline of coupon code: 60 Days from purchase.
Lifetime Updates Included.
Here's the deal sweetener. If you act today and buy Humanagement
from this page , you also get Five Exclusive Bonuses .This is a stunning deal because you grab lifetime Access to
Columns
and exclusive bonuses only at one time minimal payment of $39.
We've put together BEST bonus of the year here, So go grab it now…
Bonus#1 :

Internet Marketing For Complete Beginners Video Upgrade




Bonus#2 :

Sales Funnel Optimization Strategies




Bonus#3 :

ClickBank Marketing Secrets




Bonus#4 :

Affiliate Marketing Kit




Bonus#5 : Video Marketing Unleashed

These Bonuses are Exclusive & will Expire with this offer..
So, what are you waiting for? Grab Lingvanex Lifetime Deal because Lingvanex Translator is a superior language translator & language learning app. The most complete Translation Suite for 100+ languages
Go and check out this mind-blowing software before end the early bird discount..
Prices will be rising very soon.
Expiring Soon!!!
  You're About To Miss Out!!!
HURRY!!!
Know how to get bonuses
                                                      For claiming bonuses follow these Steps
After Purchased share your Order Confirmation receipt details to support@ltdcart.com
Join our Facebook group – https://www.facebook.com/groups/ltdcart
Bonuses Will Be Delivered within 24 to 48 Hours after you contact us.
Subscribe to the LtdCart list (Visit home page)
Stay tuned for more deals..!!!